You are here: Home / Trekking / Expedition Tocllaraju
Expedition Ranrapalca (04 Days)
Duration: 04 days
Dificult: Difficult
Artesonraju: 6162 msnm
Season:June - August
Ranrapalca
Located North East of Huaraz, its name comes from the Quechua language. Ranra means "rock" while Palca stands for "branch shaped". Its normal route is via the North East face, with its rocky sections. There are spectacular views from the top, of the Cordillera Blanca as well as the Cordillera Negra.
PROGRAM:
Lima – Huaraz ( A Bus transfer, Travel duration around 8 hours or 50 minutes Flight from Lima

Acclimatization

Detail Program
Day 01: Huaraz – Base Camp Ishinca 4350 m
From Huaraz, we will drive to Cochapamapa where our donkey driver will be waiting. There we will begin our walk through a forest of Quenuales until Base Camp. Approx. 4 hours.


Day 02:Base camp – High Camp 5200 m
On the second day we will take the route to the Ishinca Glacier, using a zigzag trail to the col (mountain pass) located between the Ranrapalca and Ishinca glaciers. We will set up camp there. Approx. 4 hours.


Day 03: High Camp – Summit 6162 m – Base Camp
We will start the hike at 1 am. The first part will be a walk and the we will star to climb. 500 m wall which we will climb. At the top, we will have a great panoramic view. Then, we will go back down to base camp.


Day 04: Base camp – Huaraz
On the last day, we will have an easy walk to Cochapampa and will go back to Huaraz in our vehicle. Approx. 3h1/2.

---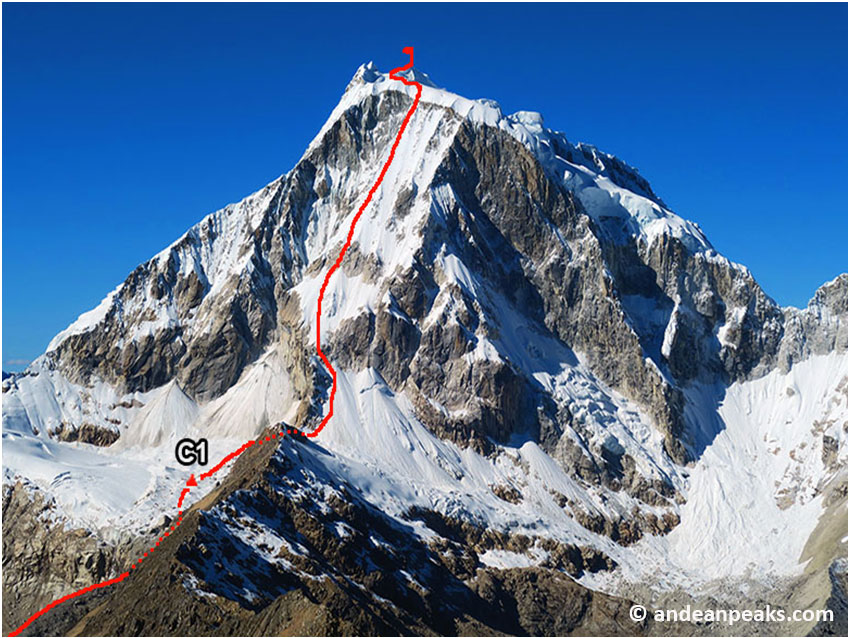 What's Included
Include:
Tour of Aclimatizzation
Peruvian Mountain Guide (UIAGM / AGMP)
Specialised cook
Porter
Entrance to the Huascaran national park.
First-Aid kit
Private transport between Huaraz / start and end of trek.
Complete meals during the trekking program
Donkey driver
Donkeys
Kitchen / dinning tent.
Collective technical equipment
Camping equipment
Tent for 2 Person
Toilette tent
Not include:
Travel accident and health insurance
Pick-up from the station and transfer to the Hotel reserved for you in Huaraz.
Transfers from the airport / hotel / airport - Lima
Hotel accommodation in Lima.
Tour of the city
Transfer from the station to the hotel / station / hotel - Lima
Bus ticket Huaraz / Lima,
Hotel accommodation in accordance with tour program.
Food and drink in Lima and Huaraz
Travel luggage and Travel cancellation insurance
Not mentioned food and beverages
Personal Spending
Personal equipment (tent, sleeping bag, backpack, harness, hiking pants, mountain jacket (goretex), hiking shoes, matraz, suitable clothing, personal medicine, crampons, ice axe, sunglasses, etc.)
Tips
Prices & Dates
Tour Information:
Season:June - August
Difficulty: Moderate
Dates & Prices:
From / To
00.00 - 00.00.2018


Flexible Dates!


Prices:
2 pax: ? per person
Join Us!
Photo and Video
PHOTO GALLERY: