You are here: Home / Trekking / Santa Cruz trek & Climbing Pisco
Santa Cruz trek & Climbing Pisco + Aclimazzation to Churup lake(10 days)
Duration: 09 days
Altitud: 5752 msnm
Route: Santa Cruz trek & Climbing Pisco
Dificult: Moderate
Season:All year
Santa Cruz trek
A very popular and short trek in to the Cordillera Blanca with spectacular views of the surrounding mountains, lagoons and a demanding ascend to the pass "Punta Union" at an altitude of 4759 m.
Pisco
is a mountain in the Cordillera Blanca range, which is part of the larger mountain range, Huandoy Massif, located in the Yungay province.
Nowadays considered by visitors as a mountain which offers spectacular views, the normal route to the west of Pisco is ideal for adapting to the altitude and is chosen by many hikers to finish their trek with or in order to acclimatize before going on a more technical hike.
PROGRAM:
Lima – Huaraz ( A Bus transfer, Travel duration around 8 hours or 50 minutes Flight from Lima

Huaraz - Aclimatizzation Churup lake>
This is a very good hike for acclimatizing. From Huaraz we go by car to the village of Pitec. On the way we pass several picturesque villages, such as Unchus and Llupa. At 3850 meter we start our easy hike up to Lake Churup with its blue colors sitting at an altitude of 4440 m underneath snow-capped Churup mountain (5495). The last 100 meter before arriving to the lake involves some scrambling over steep rocks. And then come back to Huaraz for the same way.
Travel program
Itinerary:
Day 01: Huaraz 3100m – Cashapamapa 2800m Llamacoral 3760m.
Departure from Huaraz on a private vehicle to Cashapampa and then we started to walk by the Santa Cruz valley until the Llamacorral camp. 3760 m. 4 to 5 hrs aprox.

Day 02: Llamacoral 3760m – Taullipampa 4200m.
A quiet walk through the valley of Santa Cruz, where we see two lagoons Chinan Cocha(female lagoon) and Orcon cocha(male lagoon) and then to continue until Taullipampa to 4200 m. 6 to 7 hrs aprox.

Day 03: Taullipampa 4200m – Huari pampa (cachina) 3700m.
We started to walk by a Zig zag path until to view point, where we will see spectacular views as the Nevado Taulliraju, Quitaraju, etc and then descend to camp at 3700m Huari pampa. 7hrs approx.

Day 04: Cachinapampa - Vaquería - Llanganuco - Paccha (3850 m
We descend through farmlands of Huaripampa valley, before we start to ascend again to reach our camp Paccha. 5-6 hours.

Day 05: Paccha - Cebollapampa (3900 m) / Yuraccorral (3800 m)
We start the fifth day very early and walk past two beautiful lakes. We then reach Portachuelo del Llanganuco pass, where we get an excellent view over the surrounding mountains, such as Huascaran, Huandoy, Chopicalqui, Chacraraju and others. Later we descend to Yuraccoral where we set a camp. 5-6 hours.

Day 06: Yuracorral - Trekking Laguna 69 (4450 m).
We make a trekking to the famous lake 69. 4 hours up and 2 hours to return.

Day 07: Yuracorral (3900 m) - Campo Base (4700 m)
Arrival to Base Camp. This mountain is one of the easy ones in this region. You should keep in mind that it is a real high tour with 30° ice passages and chinks on the glacier. We start at Cebollapampa from where a trail leads us to the basecamp of the Pisco. After the first steep ascend a flatter part follows. After a further ascend and a small waterfall we reach a small area, offering us a perfect place to build up our base camp.

Day 08: Base Camp - Summit Pisco Mountain(5752 m) – Base Camp
Quite some time before sunset we start our climb to the top. Our headlamps lighting the way through stony grounds and easy glaciers. Later we pass a field of rocks below the Huandoy glacier where we have to calculate with falling stones. On the other side of the glacier, thankfully, dark rocks serve us a better way to the top of Nevado Pisco. Soon we arrive at the entry to the glacier of Nevado Pisco. In the majority of cases there is a clear trace showing us the way to the saddle. So, we have to follow the steep ascend before reaching the top of 5752 meters. Not only the highest mountain in Peru, the Nevado Huascaran, but also several other mountain giants can be observed from here. Also Huandoy and Chopiqualqui appear in the direct neighborhood.

Day 09: Base Camp - Huaraz
We descend to Cebollapampa where transport is waiting for us. Return to Huaraz. 1 ½ - 2 hours of walking.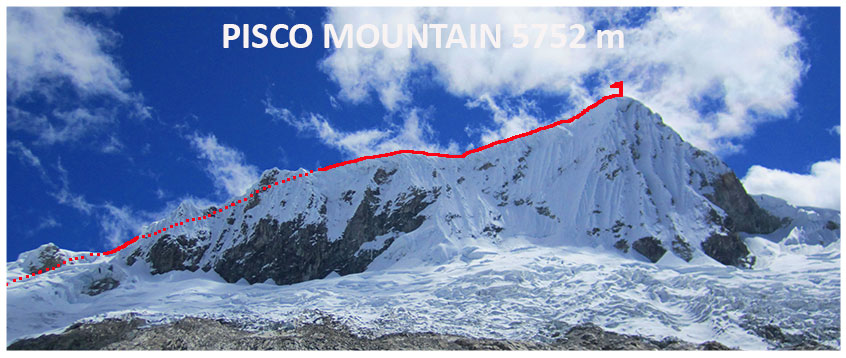 What's Included
Include:
Tour of Aclimatizzation
Peruvian Mountain Guide (UIAGM / AGMP)
Specialised cook
Entrance to the Huascaran national park.
First-Aid kit
Private transport between Huaraz / start and end of trek.
Complete meals during the trekking program
Donkey driver
Donkeys
Kitchen / dinning tent.
Collective technical equipment
Camping equipment
Tent for 2 Person
Toilette tent
Not include:
Travel accident and health insurance
Pick-up from the station and transfer to the Hotel reserved for you in Huaraz.
Transfers from the airport / hotel / airport - Lima
Hotel accommodation in Lima.
Tour of the city
Transfer from the station to the hotel / station / hotel - Lima
Bus ticket Huaraz / Lima,
Hotel accommodation in accordance with tour program.
Porter
Food and drink in Lima and Huaraz
Travel luggage and Travel cancellation insurance
Not mentioned food and beverages
Personal Spending
Personal equipment (tent, sleeping bag, backpack, harness, hiking pants, mountain jacket (goretex), hiking shoes, matraz, suitable clothing, personal medicine, crampons, ice axe, sunglasses, etc.)
Prices & Dates
Tour Information:
Season:
May to November
Difficulty:
The trek is moderate
Dates & Prices:
Off-Price
:
1150,00
-
1050,00
USD
from 2 pax, per person
From / To
16.07 - 25.07.2018

02.08 - 11.07.2018

Flexible Dates!

Prices:
Join Us!
Photo and Video
PHOTO GALLERY: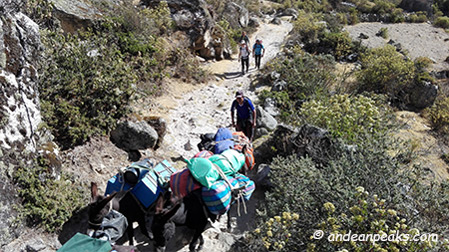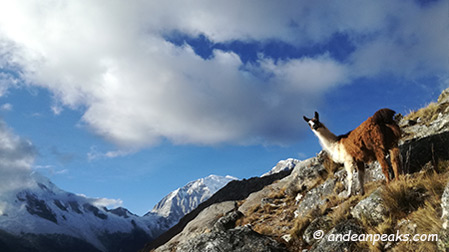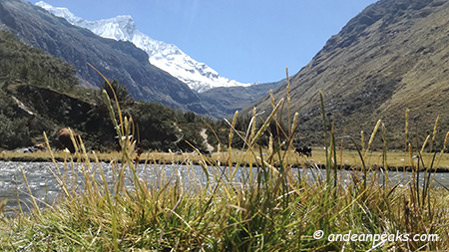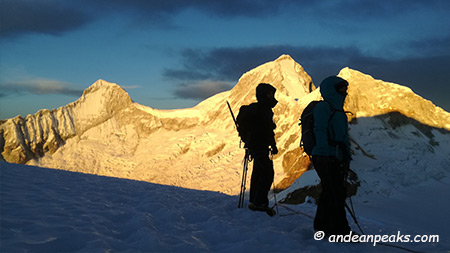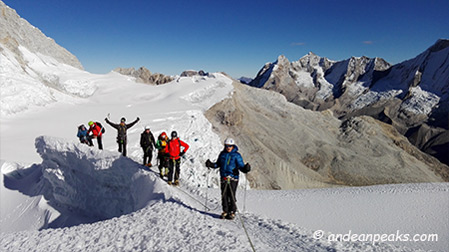 VIDEOS: