You are here: Home / Trekking / Climbing Nevado Tocllaraju
Climbing in Quebrada Ishinca Nevados Urus, Ishinca and Tocllaraju

Duration: 07 days
Altitud: Urus (5495m) - Ishinca (5530m) - Tocllaraju (6034m)
Route: Huaraz - Pashpa - Base camp Ishinca
Dificult: Moderate - Dificult
Season: May - september
From the Ishinca base camp it is possible to climb 3 mountains:
Urus, Ishinca and Tocllaraju. For Urus and Ishinca it is not necessary to have previous climbing experience. Obviously, we offer all the support you need to reach the summit of these peaks. After Urus and Ishinca you should be customized to the climbing tec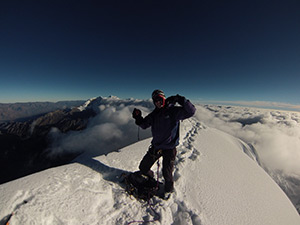 hniques in order to be able to reach the summit of the more challenging Tocllaraja, which might be your first 6000er.
Urus 5495 m: moderate
Ishinca 5530 m: moderate
Tocllaraju 6034 m: moderate - difficult
For all three ascents good acclimatization is required. Tents and alimentation is carried up to the base camp by porters. Our clients carry only their own climbing equipment and personal clothes.
Program:
Day 01: Huaraz - Pashpa - Base Camp (4350m)
From Huaraz we will drive to Cochapampa where our Donkey Driver will be waiting for us. From there we will start our hike, going through a forest of Quenuales trees until Base Camp. Approx. 4 hours.

Day 02: Base Camp - Summit Urus (54 - Base Camp
We will start our ascent at 3 am by a steep ridge until we reach the glacier, before climbing along a spectacular ridge to the summit, with views of the Tocllaraju and Ranrapalca peaks among others. After the summit, we will go down to base camp. Approx. 5 hours.

Day 03: Base Camp - Summit Ishinca (5550 m) - Base Camp
We will start our ascent at 3 am, taking a zigzag trail to the glacier, where we will begin our journey to the top. From there, we will have a truly panoramic view. Then, we will go down to base camp.

Day 04: Rest Day - Base Camp Ishinca valle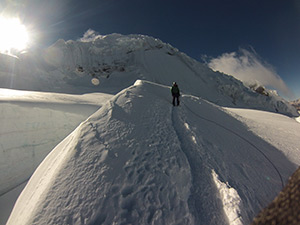 Rest day. Optional only. It is also possible to go on a 2 hour walk to Lake Milluacocha this day.(Opcional)

Day 05: Base Camp - Morraine Camp (4950m)
We will hike a zigzag trail for four hours until we reach 5100m, where we set up camp.

Day 06: Moraine Camp - Summit Tocllaraju (6034m) - Base Camp
We will start hiking the ascent at 1am along a large glacier until we get to the first 50m wall (55-65°). After climbing it, we will reach a ridge with views of the Callejon de Conchucos. We will carry on to the summit where we will be rewarded with a splendid view. In the afternoon, we will descend to base camp. Approx. 6 to 7 hours.

Day 07: Base Camp - Pashpa - Huaraz
On the last day we will go on an easy trail to go back to Chacapampa and return to Huaraz with our private vehicle. Approx. 3 ½ hours.


Include:



Entrance fee to the Huascarán National Park, US$25.00 per person
Transfer hotel/busstation – Huaraz in Hotel
Peruvian Guide certified by UIAGM.
Cook (s)
Porter (for climbing part)
Donkey drivers
Donkeys
Private transportation Huaraz/according to the program/Huaraz
Complete meals during the trek program and climbing program
Kitchen/dinning tent
Cooking equipment
Collective technical equipment
Toilette tent
Tents for 2 Person
Not include:
Travel accident and health insurance
Transfer/bus station/Hotel – Lima
Transfer airport/hotel/airport – Lima
Nights Hotel in Lima / Double room with breakfast included
City touring Lima
Hotel In Huaraz,according to the program 2 nights. Double room with breakfast included
Bus ticket Huaraz/Lima, executive service in public bus-Movil Tours or Cruz del Sur
Horse(in case of emergency,for trekking parts)
Travel luggage and Travel cancellation insurance
Not mentioned food and beverages
Personal Spending
Personal camping and climbing equipment (sleeping bag, climbing boots, crampons, ice axe, gaiters, harness, snow glasses, appropriate clothes, personal medicines, etc.)
Tips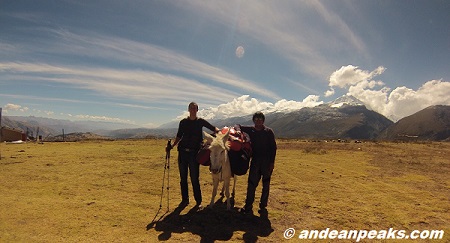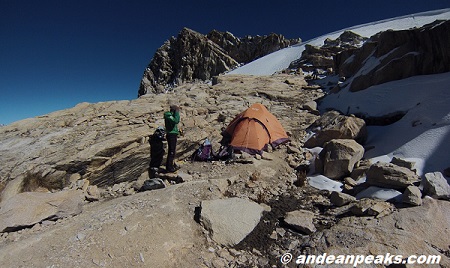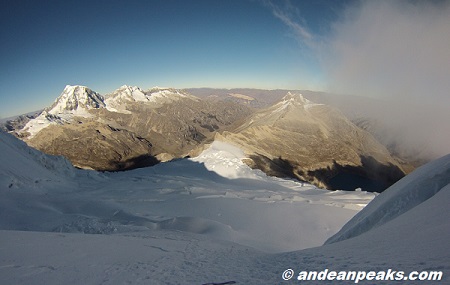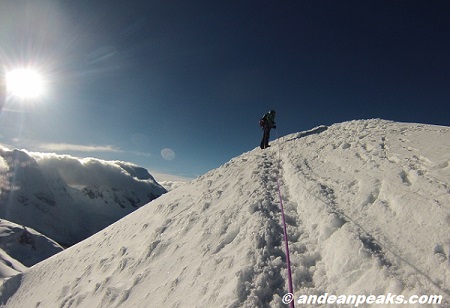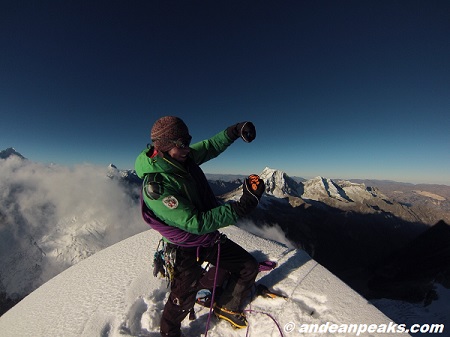 Octavio Salazar & Eloy Salazar
Mountain Guide - Tour Operator
AGMP/UIAGM

E-mail: office@andeanpeaks.com


Av. Inter Oceanica 1567, Nueva Florida
Huaraz - Perú
Copyright © 2023 Andean Peaks S.A.C. All Rights Reserved | Site by INDEX.pe