You are here: Home / Trekking / Trekking Huayhuash

Duration: 15 days
Altitud of the trek: 5050 msnm
Route: Huayhuash classic circuit
Difficulty: Moderate
Altitud of Pisco Mountain: 5752 msnm
Route: Route Normal
Season:All year
Cordillera Huayhuash
is a mountain range within the Andes in Peru, stretching from north to south. The main part consists of about 20 peaks in only 25 km of length, including the second highest Peruvian peak Yerupaja (6617 m; after Huascaran 6768 m) and Siula Grande (6344 m), which is famous due to Joe Simpson's book Touching the Void in which he recounts his successful but disastrous and nearly fatal climb to this mountain.
The Huayhuash trekking is known as one of the most beautiful treks in the world. Due to high altitude passes, it is not an easy trek, but the spectacular views over the surrounding mountains, turquoise blue lakes and impressive landscapes totally pay off the effort.
Pisco
is a mountain in the Cordillera Blanca range, which is part of the larger mountain range, Huandoy Massif, located in the Yungay province.
Nowadays considered by visitors as a mountain which offers spectacular views, the normal route to the west of Pisco is ideal for adapting to the altitude and is chosen by many hikers to finish their trek with or in order to acclimatize before going on a more technical climb.
PROGRAM:
Lima – Huaraz ( A Bus transfer, Travel duration around 8 hours or 50 minutes Flight from Lima)

Acclimatization Churup lake
This is a very good hike for acclimatizing. From Huaraz we go by car to the village of Pitec. On the way we pass several picturesque villages, such as Unchus and Llupa. At 3850 meter we start our easy hike up to Lake Churup with its blue colors sitting at an altitude of 4440 m underneath snow-capped Churup mountain (5495). The last 100 meter before arriving to the lake involves some scrambling over steep rocks. And then come back to Huaraz for the same way.
Detail Program
Day 01: Huaraz 3100 m – Matacancha / Cuartelhuain 4180 m
Starting from Huaraz, we drive through Huaylas alley to Conococha, which offers impressive panoramic views over Huayhuash mountain range. We observe many snow peaked mountains, such as Yerupaja, Jirishanca, Rondóy and others. We then drive through villages Llamac and Pocpa. Finally, we set up our camp at Matacancha. 5 hours of driving aprox.


Day 02: Matacancha 4180 m – Lake Mitucocha 4200 m
We start our trek with a zig-zag track that leads up to Cacananpunta pass at 4750 m. We descend through a large picturesque valley that opens to a beautiful lake Mitucocha (4200 m), where we set our camp right at the lake banks. We then do a lateral trek on the moraine. 5 hours aprox.


Day 03: Lake Mitucocha 4200 m – Lake Carhuacocha 4100 m
We start the third day walking through Mitucocha valley, ascending up to Carhuac pass (4650 m) which offers an excellent panoramic view of Siula and Yerupaja mountains. We descend down to a beautiful lake Carhuacocha to set up our camp on an idilic spot with a splendorous view over Siula mountain, complemented with Yerupaja and Jirishancas mountains. 5 hours aprox.


Day 04: Lake Carhuacocha 4100 m – Huayhuash 4350 m
This is a long day of walking, starting at the beginning of Queropalca valley. We ascend up to Siula pass (4800 m) with excellent views over the surrounding mountains. Yerupaja (6634 m) is the second highest peak in Peru and Siula (6356 m) is an impressive mountain that was made famous by Joe Simpson's book Touching the Void in which he recounts his successful but disastrous and nearly fatal climb to this mountain. We also get excellent views over Carnicero and Trapecio. We descend to Huayhuash to set our camp. 7-8 hours aprox.


Day 05: Huayhuash 4350 m - Viconga 4500 m
This day we reach the most southern point of Huayhuash mountain range, ascending to Huayhuash pass at 4700 m. We get excellent views over Cordillera Raura mountain range at one side and southeastern face of Trapecio at the other. We descend south and walk along lake Viconga until we reach thermal baths. This is a great opportunity to rest and take a relaxing hot bath. 4-5 hours aprox.


Day 06: Viconga 4500 m – Huanacpatay 4200 m
Our goal for the sixth day is to pass Cuyoc pass at 5000 m, which is the highest point of Huayhuash trekking. It is also where we get really impressive panoramic views of Cordillera Huayhuash mountains. Passing Cuyoc, we descend to Huanacpatay valley. Crossing large Andean meadows, we reach our camp. 7 hours aprox.


Day 07: Huanacpatay 4200 m – Huatiac 4300 m
We continue our trekking descending through Huanacpatay valley until it unites with Cutatambo valley and we reach Huayllapa village at 3500 m. After a short rest, we start to ascend through Tapush valley to out camp Huatiac at 4300 m. 7 hours aprox.


Day 08: Huatiac 4300 m – Gashpapampa 4400 m
We continue walking up to Tapush pass (4800 m) and then descend to lake Susococha. We reach our camp at Gashpapampa (4400 m), set in a nice setting with impressive views over Suerococha (Diablo mudo or Mute devil). 5 hours aprox.


Day 09: Gaspapamapa 4400 m. – Lake Jahuacocha 4050 m
We ascend to Gaucha pass at 4800 m, where we get to admire magnificent views over Yerupaja, Rasac and other mountains. We then descend to Jahuacocha, a beautiful lake where we set our camp in Andean meadows. We spend 2 nights here, in wonderful nature close to the lake.


Day 10: Rest
This is a rest day. We take our time in the morning to relax, then we do a short walk to lake Soltercocha. We prepare a delicious lunch called pachamanca, which is a typical Peruvian dish, prepared in a natural way.


Day 11: Lake Jahuacocha 4050m – Huaraz 3100m
The last day we descend through Jahuacocha valley and then walk up to reach Pampa Llamac at 4250 m. Crossing the pass, we descend to Llamac village where we take a bus to Huaraz. 6 hours.


Day 12: Rest day
Free day in Huaraz.


Day 13: Huaraz -Cebollapampa 3850m- Base Camp 4650m
From Huaraz, we will take a shuttle to Cebollapampa (approx. 2 to 3 hours). On the way, you will be able to appreciate amazing sights such as two beautiful lagoons: Chinancocha (lag. Hembra) and Orconcocha (lag. Macho). We will follow the Llanguna Valley to Cebollapampa. From there, A beautiful hike brings us to Base Camp, where we spend the night. 4 to 5 hours aprox.


Day 14: Summit Pisco Mountain (5752 m) – Base Camp
We start very early, at 3:00, traversing various moraines to reach the glacier. We then pass very steep slopes (inclination 35-40°) to reach the peak. A magnificent view opens in front of us, including the gigantic Chacraraju, Artesonraju (Paramount logo), Huandoys, Caraz, Huascaran, Alpamayo and others. We then descend to Morrena camp where we have a rest and lunch. We continue to the base camp. 6-7 hours aprox.


Day 15: Base Camp - Huaraz
We descend to Cebollapampa where transport is waiting for us. Return to Huaraz. 1 ½ - 2 hours of walking.

---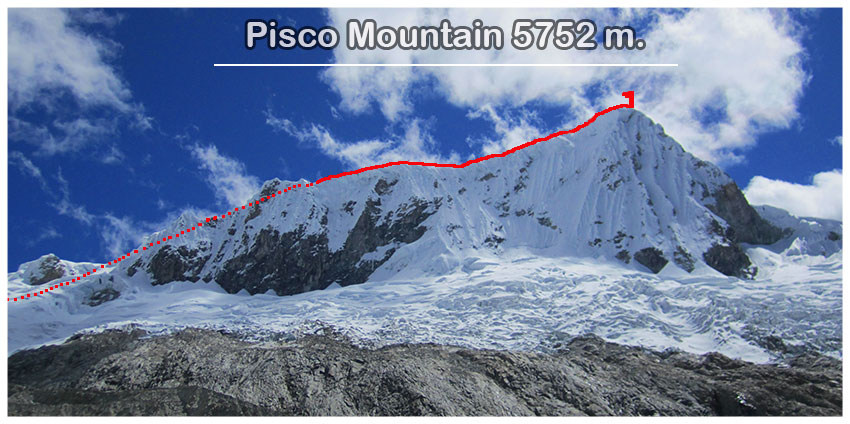 What's Included
Include:
Tour of Acclimatization
Peruvian Local Guide (Trek)
Peruvian Mountain Guide (UIAGM / AGMP) (Climbing)
Specialised cook
Entrance to the Huascaran national park.
First-Aid kit
Private transportation Huaraz / according to the program / Huaraz
Complete meals during the trekking program
Entrance fee to the Comunity (Huayhuash)
Donkey Driver
Donkeys
Cooking equipment
Collective technical equipment
Toilette tent / for 2 Person
Not include:
Transfer airport/hotel/airport – Lima
Nights Hotel in Lima / Double room with breakfast included
Transfer/bus station/Hotel – Lima
Bus ticket Huaraz / Lima, executive service in public bus-Movil Tours or Cruz del Sur
Transfer hotel / busstation – Huaraz in Hotel
Hotel in Huaraz, according to the program (3 nights). Double room with breakfast included
Horse (in case of emergency, for trekking)
Tour of the city
Travel accident and health insurance
Food and drink in Lima and Huaraz
Porter
Personal equipment (tent, sleeping bag, backpack, harness, hiking pants, mountain jacket (goretex), hiking shoes, matraz, suitable clothing, personal medicine, crampons, ice axe, sunglasses, etc.)
Prices & Dates
Tour Information:
Season:April - December
Difficulty: Moderate
Dates & Prices:
Off-Price: 000,00 - 000,00 USD from 12 pax, per person
From / To
05.04 - 15.04.2018


20.05 - 03.06.2018


Flexible Dates!


Prices:
1 pax: ? per person
2 pax: ? per person
4 pax: ? per person
6 pax: ? per person
8 pax: ? per person
10 pax:? per person
12/15 pax: ? per person
Join Us!
Photo and Video
PHOTO GALLERY: