You are here: Home / Trekking / Climbing Tocllaraju Mountain

Duration: 13 days
Dificult: Easy - Moderate
Alpamayo: 5947 msnm
Huascaran: 6768 msnm
Route: Route Normal
Season:May - Augost
Alpamayo Mountain
is a mountain in the Andean Cordillera, located in the Peruvian territory with an altitude of 5947m above sea level. It is one of the peaks that attracts most attention in the Cordillera Blanca in the Peruvian Andes. It was considered by the newspaper Alpinismo (May 1966) as the "most beautiful mountain in the world"
Huascaran Mountain
is located in the Yungay province, Ancash department at about 70 km from Huaraz, department capital. At 6768m, it is the highest tropical Mountain in Peru, and is surrounded by peaks reaching over 5000m of height in the Cordillera Blanca sector.
PROGRAM:
Lima – Huaraz ( A Bus transfer, Travel duration around 8 hours or 50 minutes Flight from Lima

Acclimatization Churup lake
This is a very good hike for acclimatizing. From Huaraz we go by car to the village of Pitec. On the way we pass several picturesque villages, such as Unchus and Llupa.
At 3850 meter we start our easy hike up to Lake Churup with its blue colors sitting at an altitude of 4440 m underneath snow-capped Churup mountain (5495). The last 100 meter before arriving to the lake involves some scrambling over steep rocks. And then come back to Huaraz for the same way.

Detail Program
Day 01: Huaraz – Cashapampa (2800m) – Llamacoral (3750m)
From Huaraz we will drive to a village called Cashapampa with our shuttle vehicle. The donkeys and Donkey Driver will be waiting for us there. From there, we will begin our trail through the Santa Cruz valley until reaching Llamacoral, where we will set up camp. Approx. 4 to 5 hours.


Day 02: Llamacoral – Base Camp (4250m)
On day 2 we will start our trail in the same valley where the views of two beautiful lakes, Chinacocha and Orconcocha can be enjoyed. Then we will take a Zigzag trail to Base Camp. Approx. 5 hours.


Day 03: Base Camp – High Camp (5450m)
We will hike up to High Camp, first via a rocky trail until arriving at the glacier, then we will trek through ice and snow with some steep parts until we get to 5450m where we will set up camp.


Day 04: High Camp – Summit Alpamayo Mountain(5947m)
The hike will start at 1 am, trekking until we surpass a bergschrund where the technical part in the ice begins until we reach the summit. Then we will abseil down to High Camp. Approx. 6 to 7 hours. (optional: can go down to base camp)


Day 05: High Camp – Base Camp
Relaxed descent to base camp. Approx. 4 to 5 hours.


Day 06: Base Camp – Cashapampa – Huaraz
Walk back through Santa Cruz Valley to Cashapampa, where our vehicle will be waiting for us. Approx. 4 to 5 hours.


Day 07: Rest in Huaraz
Free day in Huaraz


Day 08: Huaraz – Musho – Base Camp (4250m)
From Huaraz we will drive to a village called Musho, where we will start our hike, first going through a forest of eucalyptus trees, until we get to base camp. We will also have donkeys and donkey drivers with us during this hike. Approx. 4 to 5 hours.


Day 09: Base camp – Camp 1 (5260m)
This day we will begin our hike by crossing a large granite moraine until reaching a wide glacier, where we will get to 5260m and set up camp for the night. Approx. 5 to 6 hours.


Day 10: Camp 1 – camp 2 or Gorge (6000m)
The hike to Camp 2 will start early in order to avoid the crossing seracs after the couloir. This is an easy trail of approx. 4 hours.


Day 11: high Camp 2 – Summit (6768m) – High Camp 2
The hike will start at 1 am, taking a zigzag trail in order to avoid the crevices. Afterwards, we will climb narrow passages of 50 to 60° inclination. After climbing all of them, we will reach a wide glacier where we will carry on zigzagging until we reach the top. From the top, you will be able to appreciate the mountain range of the Cordillera Blanca. Then we will go down to Camp 2 to spend the night. Approx 6 to 7 hours.


Day 12: Camp 2 – Base Camp
We will take the same route as before to reach Base Camp (4250m). Approx. 4 to 5 hours.


Day 13: Base Camp – Musho – Huaraz
We will go down to the village of Musho where our vehicle back to Huaraz will be waiting. 3 hours walk + 2.5hrs transport.

---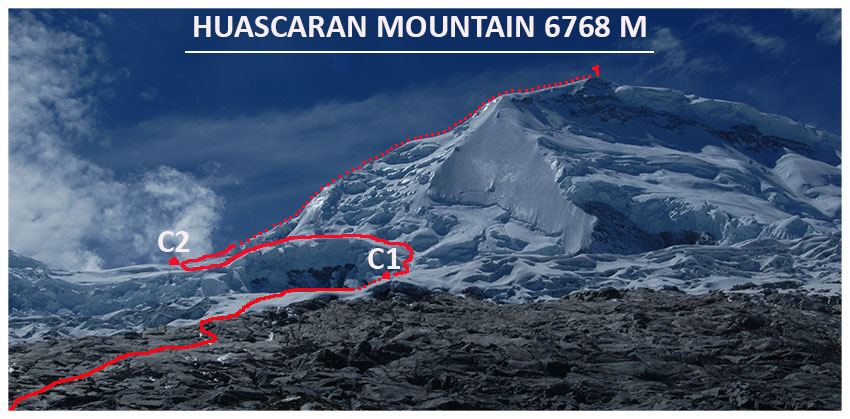 What's Included
Include:
Tour of Aclimatizzation
Peruvian Mountain Guide (UIAGM / AGMP)
Specialised cook
Porter
Entrance to the Huascaran national park.
First-Aid kit
Private transport between Huaraz / start and end of trek.
Complete meals during the trekking program
Donkey driver
Donkeys
Kitchen / dinning tent.
Collective technical equipment
Camping equipment
Tent for 2 Person
Toilette tent
Not include:
Travel accident and health insurance
Pick-up from the station and transfer to the Hotel reserved for you in Huaraz.
Transfers from the airport / hotel / airport - Lima
Hotel accommodation in Lima.
Tour of the city
Transfer from the station to the hotel / station / hotel - Lima
Bus ticket Huaraz / Lima,
Hotel accommodation in accordance with tour program.
Food and drink in Lima and Huaraz
Travel luggage and Travel cancellation insurance
Not mentioned food and beverages
Personal Spending
Personal equipment (tent, sleeping bag, backpack, harness, hiking pants, mountain jacket (goretex), hiking shoes, matraz, suitable clothing, personal medicine, crampons, ice axe, sunglasses, etc.)
Tips
Prices & Dates
Tour Information:
Season:Abril - December
Difficulty: Moderate
Dates & Prices:
Off-Price: 000,00 - 000,00 USD from 4 pax, per person
From / To
10.05 - 17.05.2018


02.07 - 09.06.2018


Flexible Dates!


Prices:
1 pax: ? per person
2 pax: ? per person
4 pax: ? per person
6 pax: ? per person
8 pax: ? per person
10 pax:? per person
12/15 pax: ? per person
Join Us!
Photo and Video
PHOTO GALLERY: