You are here: Home / Trekking / Expeditions Ojo del Salado
Expeditions Nevado Ojo del Salado
Expedition's schema
Program length: 14 days
Altitude: 6893 m / 22615 ft
Location: Copiapó, Chile
Slope: 2500 m / 8200 ft from Laguna Verde
Season: November to March
Difficulty: This is not a technical track, but it is physically challenging. It requires crampons and ice-axe (piolet)
First ascent: 1937 by Justin Wojsznis and Jan Szczepanski (PL)
Expedition Team size: min 2 and max. 6 climbers + guides
The Ojos Del Salado volcano is the highest summit across Chile, the second summit in America, and it is also the tallest active volcano in the world. That's why this is one of the most desired challenges among mountaineers around the world. Ojos Del Salado is almost as tall as Mt. Aconcagua which surpasses it by 60mts.
The volcano is located in the borderline between Chile and Argentina, in the Chilean Atacama region, one of the most active mining regions in the country. Inside the Nevado de Tres Cruces National Park we can spot the Negro Francisco Lake and the Maricunga salt-flat which serves as refuge to three flamingo species. The closest city is Copiapó, where we can find everything we need to start our climbing upwards Ojos Del Salado.
Program:
Day 01: Copiapó airport / Hotel / Our service begins (IN))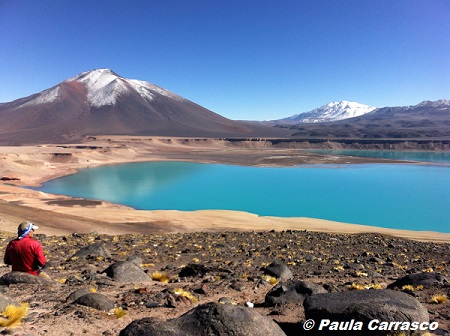 We'll meet you at the airport and take you to your hotel where you'll have a talk with our guide in order to crystal clear any doubt clouding your mind and to check your equipment is proper and fitted for the purposes.

Day 02: Copiapó / Valle Chico
We set out towards Valle Chico to set up our first camp. This place is perfect to start our expedition because it has the ideal altitude for starting the acclimatization process.

Day 03: Valle Chico / Laguna Santa Rosa / Trekking
On this day we'll set up the second camp around the 3700 meters in order to keep on with our acclimatization process, which is crucial to our objective. We'll do a light trekking to keep with our acclimatization proce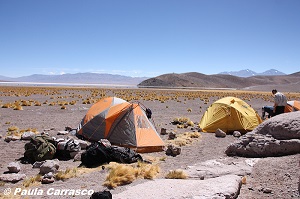 ss in order to get our bodies accustomed to this high altitude desert environment. This trekking is to be done around the Laguna Santa Rosa lakeside.

Day 04: Climb mt 7 Hermanas (4700m)
On this day we will perform our first ascension to the 7 Hermanas hill. Altitude: 4700masl

Day 05: Laguna santa Rosa / Laguna Verde
On this day we'll finish the first stage of our expedition. We'll head toward Laguna Verde where we'll set-up the base-camp, rest for the remaining day and get ready for the days to come.

Day 06: Laguna Verde / climb Mulas Muertas (5600m)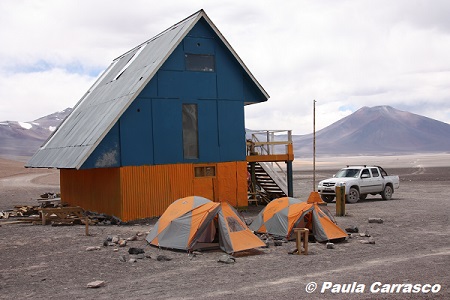 On this day we'll put our bodies to the test. We'll see how your body is enduring the lack of oxygen in this area. We'll go up a bit higher than 5,600 meters and then go back to sleep at the Laguna Verde.

Day 07: Laguna Verde / San Francisco or Vickuña (6100m)
In order to go forward into our expedition, we will ascend a 6000 and so check how our body reacts when facing that kind of altitude. We can either choose between Mt. San Francisco, at the frontier with Argentina, or Mt. Vicuñas. Both are above the 6000masl.

Day 08: Laguna Verde / Refuge Atacama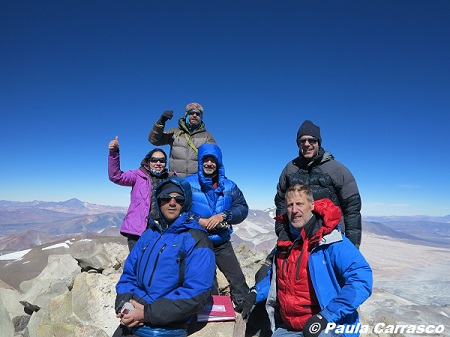 This is the last day we'll be able to use the 4WD vehicle. We'll transport the equipment to Refuge Atacama and from there we'll have to work harder.

Day 09: Refuge Atacama / Refuge Tejos / Refuge Atacama.
Each one of us has to carry his/her personal equipment plus a piece of the common equipment towards Refuge Tejos in order to prepare our last camp (high camp) and it clearly helps with the acclimatization process. Once we get to the shelter we'll get some rest, leave our equipment there and head back to Refuge Atacama to sleep.

Day 10: Refuge Atacama / Refuge Tejos.
We'll carry the remaining equipment towards Refugio Tejos. This time we'll spend the night there. Since we've already carried most of the equipment the day before, we'll be saving a lot of necessary energy for our next day, which is without doubt the most important day of our expedition.

Day 11: Refuge Tejos / climb Ojos del Salado / Refuge Atacama
We'll set out early morning to reach the Ojos Del Salado summit (6,893masl). On this day we'll see how all of our hard work flourishes. All the previous acclimatization process is to endure this SO challenging summit. No doubts about it, this is the hardest day in our expedition. We'll be ascending 1,000 meters, crossing a glacier, rock climbing, reaching the summit, descending, and carrying the equipment back to Refugio Atacama all in the same day.

Day 12: Extra Summit Day
Extra Summit Day

Day 13: Refuge Atacama / Copiapó Hotel
This is the last day we'll spend in the Parque Nevado de Tres Cruces area. Calmly we'll take-down our camp and head back to Copiapó, leaving behind us this giant, the highest summit in Chile and the tallest volcano in the world

Day 14: Hotel / Copiapó Airport / End of our services (OUT)
The whole group will be driven to the airport


Include:



Mountain guide (Spanish / English )
Private transportation to climbing areas (4WD)
Transfer airport – hotel and hotel – airport
2 hotel nights in (Copiapó)
Mountain tents (each one is for 2 persons)
Dinner tent (with table and chairs)
Cooking kit
All meals within the expedition (Breakfast, box lunch, diner)
Professional first aids kit
Mat
Heart rate monitor and oximeter
VHF Radio
Satellite radio
All group equipment; rope, high altitude tent, stove, GPS, etc.
Not include:
Personal mountain equipment
Traveling and rescue insurances. We strongly recommend you to get them.
Camping, refuge or hotel in Santa Rosa lagoon, conciderate at list 30usd per day.
Any other service which wasn't mentioned above. (restaurant meals in Copiapo, beverages , tips, etc.)
International and national flights and boarding fees.
Climbing permit "from the last 4 years this payment are not required"
Payment in Santa Rosa lagoon, for refuge (us30) , camping (us20) or Hotel (us100)
Additional information:
1 guide every 3 passengers
Satellite phone (fees by minute usage – U$ 6/m)
2 persons per hotel room.
U$ 300 per person if you want single room, please let us know
U$ 100 per person if you want single tent, please let us know
Hotel lodging includes *Breakfast (see itinerary)
Dirección de Límites y Fronteras del Estado, permit is free of charge
Climbing permit USD 200 per person, cancel
We recommend you travel with small bills
Weather can get as low as -25ºC /-13ºF in the area
Andean Peaks S.A.C is NOT responsible for:
Personal services (laundry, snacks, beverages, restaurant meals, tips, etc.)
Personal mountain equipment
Expenses in case of rescue or early departure from the expedition.
Delays caused by your flight or any transportation issue which you are responsible for.
Weather changes which may affect the expedition.


Octavio Salazar & Eloy Salazar
Mountain Guide - Tour Operator
AGMP/UIAGM

E-mail: office@andeanpeaks.com


Av. Inter Oceanica 1567, Nueva Florida
Huaraz - Perú
Copyright © 2022 Andean Peaks S.A.C. All Rights Reserved | Site by INDEX.pe