Esta aqui: Home / Recomendaciones
Recomendaciones
Philippe Marcotte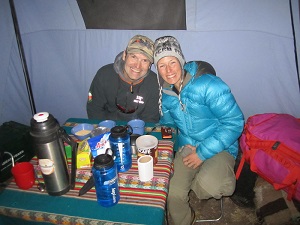 During the month of July 2014 we requested the services of
Andean Peaks
to help us in realizing two long-time dreams, reaching the summit of Alpamayo and reaching an altitude higher than 6000M on a technical climb. The services provided were above what we were expecting.
The whole team was very friendly and they made us feel safe during this epic journey. The physical and emotional support provided by each crew member really made the difference to summit both the Alpamayo and Ranrapalca 6162M. Their care allowed us to fully concentrate on the acclimatization and on the technical climbing.
The attention to details from the cook, our guide and the porters was great and gave us a high level of comfort even in the higher camps. During our expeditions we had the chance to compare the level of experience of our team and leader with other expeditions and we felt very lucky to have choose
Andean Peaks
.
We hope to return to Peru soon and we will use the same company, the value that they offer is above anything else out there, especially if you want to make it back to tell your story !
Thank you again
Andean Peaks
and Octavio our Guide, please forward our best wishes to the whole team !
Philippe Marcotte, Montreal, Canada
philmobil(aroba)hotmail.com
Climbing Alpamayo & Ranrapalca July, 2014
---
Constanza Jimenez Navia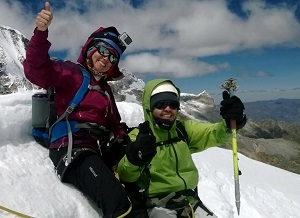 La experiencia con
Andean Peaks
fue maravillosa. El objetivo fue el ascenso al Nevado Ishinca, y desde meses antes del viaje que Octavio, el guía, programó todo el itinerario detalladamente. El servicio es excelente. Se preocupan de todos los detalles, desde el traslado entre ciudades, el recojo en el terminal, los hoteles y el equipamiento necesario, el cual es de primer nivel.
El trekking en si fue una experiencia inolvidable. Ellos se preocuparon de todo y uno solo de disfrutar la montaña. El día de ataque a la cumbre, Octavio fue muy profesional demostrando sus amplios conocimientos en Montaña, dándonos la seguridad de que si algún percance ocurría en el ascenso, él tenia todas las herramientas para solucionarlo. Fue muy agradable compartir esos días con Octavio y Florentino (Cocinero), escuchar de sus historias y aprender de ellos.
Me voy con un lindo recuerdo de estas vacaciones, y sin lugar a dudas, cuando vuelva por otras cumbres, contratare nuevamente sus servicios.
Constanza Jimenez & Gonzalo Leiva ( Santiago, Chile)
constanza.jimenez.navia(aroba)gmail.com
Escalada Nevado Ishinca octubre, 2014
---